There are many Facebook marketing software options available on the market, and each business may have different requirements for the features they need. Below, Crownsoft provides a detailed introduction to some of the best options for small business Facebook marketing: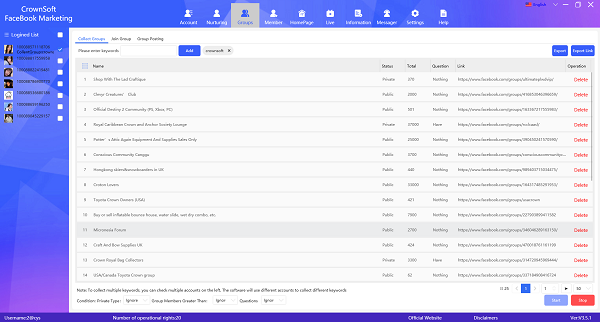 Crownsoft Facebook Marketing Software: Supports logging in to multiple Facebook accounts at the same time, collects group addresses by keywords, sends messages to groups, adds recommended contacts in bulk, sends messages to recommended contacts, collects personal Facebook users, sends private messages to users, and sends page comments. Through the customer service management function, interact with fans via chat, respond quickly using templates, and automatically translate chat records.
Hootsuite: Hootsuite is a comprehensive social media management software that can be used to manage multiple social media accounts, including Facebook. It offers a wide range of features, including auto-publishing, social media monitoring, analytics, and reporting.
AdEspresso: AdEspresso is software designed specifically for Facebook ads, and can help you create and manage Facebook ads. It provides ad creation and management, ad analysis, A/B testing, and other features.
Canva: Canva is an online graphic design tool that can be used to create attractive Facebook ad materials, such as ad images and copy. It provides many templates and design tools, making design simple and easy.
Facebook Insights: Facebook Insights is an analysis tool provided by Facebook that can help you understand the performance of your Facebook page and ads. It provides analysis and reports on key metrics, such as page likes, post performance, and audience data.
The above content is from Crownsoft, and we hope it is helpful to you. For more detailed knowledge about Facebook marketing, visit Crownsoft.