WhatsApp filters are a commonly used software for WhatsApp marketing. Below, Crownsoft has summarized some common issues encountered when using WhatsApp filters, in the hope of being helpful to everyone.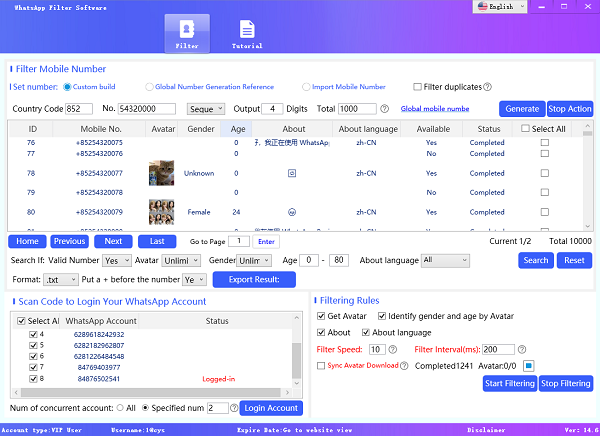 What is an available online WhatsApp filter?
There are currently several available online WhatsApp filters, including:
2.WappBlaster
3.WhatsApp Marketing Software
4.WhatsApp Marketing Tool by WAAM-it Sender
5.Bulk WhatsApp Sender
6.WhatsApp Bulk Sender
It should be noted that when using online WhatsApp filters, one should comply with the terms of use and service agreement of WhatsApp, and take care not to misuse these tools for sending spam messages or other prohibited activities.
How do I get trial version of WhatsApp filter software?
You can visit the Crownsoft website for a free trial of the WhatsApp filter, which is valid for 20 minutes. You can contact customer service at any time to answer your questions.
WhatsApp number Filter online free
CrownSoft WhatsApp Filter, log in to your WhatsApp account through scanning QR codes, use your WhatsApp permissions to screen the target mobile phone number registered WhatsApp, and judge gender and age based on WhatsApp avatars.After screening, you can export .txt/.xls/.xlsx/.vcf files.
The above content is from Crownsoft, hoping to be helpful to everyone. To learn more about WhatsApp filters, visit Crownsoft for more information.